Shahid Kapoor's brother Ishaan Khatter is a popular Bollywood actor. Read to know how he reacted on being trolled for #BlackLivesMatter post.
movie_image:
MUMBAI: George Floyd's murder by a police officer who choked him to death, has given to a massive protest in the US and across the world. The entire world stands in solidarity to express their rage towards this ghastly act. Along with US TV and radio channel, we also saw many Bollywood celebs expressing their anger. They also joined the #blackouttuesday and posted an all black photo, literally putting their social media on mute. One of them was Shahid Kapoor's brother and actor Ishaan Khatter. 
ALSO READ: Ishaan Khatter has a crush on this Bollywood actress 
After he stood in solidarity and supported it, one of the social networking users targeting him sarcastically asked him why the actor didn't speak up when Delhi police had bashed up university student. To which Ishaan calmly replying mentioned though he doesn't own any explanation to the user, he made the user understand the importance of standing in support. According to the actor how in such times instead of picking on someone, one should stand in support. 
Ishaan's reply to the troller read, "Not that I owe you or anybody an explanation, but I did. Find somebody else to nitpick on. This is the time to show solidarity for the entire world as one, not to find faults in those who are doing it." 
Take a look below.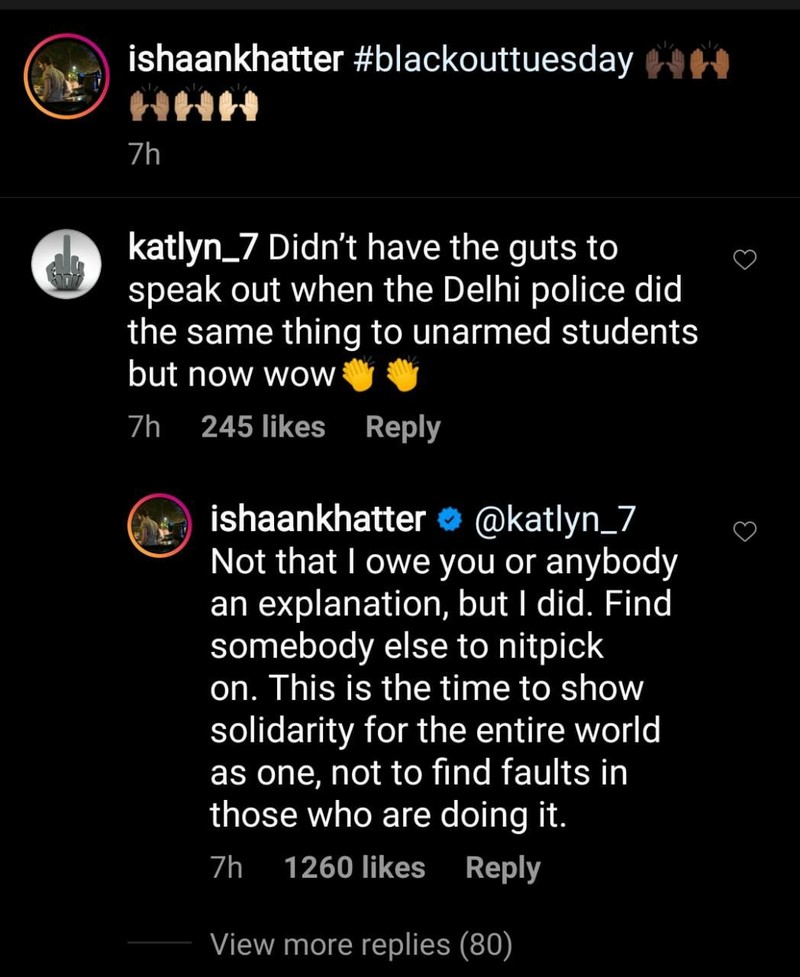 ALSO READ: "I think she has impressed every single person on the sets" Ishaan Khatter opens up about Ananya Panday
CREDITS: SPOTBOYE
Like
0
Love
0
Haha
0
Yay
0
Wow
0
Sad
0
Angry
0