We heart on Vivian, Shabbir and Karan's football skills
Story_image:
MUMBAI: It is known to all the sports lovers that in India, cricket is a religion but football is a way of life!
There are many celebrities who are crazy about football in the likes of John Abraham, Abhishek Bachchan, Ranbir Kapoor, Aditya Roy Kapoor, Salman Khan and television celebrities in the likes of Vivian Dsena, Karan Veer Mehra, Shabbir Ahluwalia and Karan Wahi.
Infact some of the actors have even associated and promoted football for the sport to make way into the hearts of the Indian audience.
To name a few, Vivian and Karan Wahi play the sport on a national level. John was the brand ambassador of FIFA in 2014 and Ranbir Kapoor's love for Barcelona, a popular team of Spain, prompted him to buy the Mumbai franchise of ISL. He had once said that India is a sleeping giant of football! take a look at their pictures below: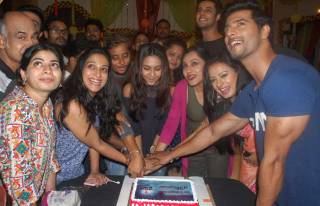 Now whether you're a fan of Team Argentina, Brazil, England, Germany, France, Portugal, or any team, all football fans will realize that theatres aren't just for movies anymore.
Cinépolis has acquired the rights to a live broadcast of the knockout matches of FIFA World Cup Russia 2018 to showcase the football fever on the big screen in India. This partnership will go a long way in replicating the spirit and ambience of an actual football stadium, thus delivering great news for all the football enthusiasts.
What do think of Ranbir kapoor, Vivian Dsena, Shabbir Ahluwalia and John Abraham?
Mr. Devang Sampat, Director – Strategic Initiatives, Cinépolis India, said "We are excited to be the first ones to offer the 'Stadium-Like' Live Screenings of the 2018 FIFA World Cup. In India there are many cricket fanatics, but the introduction of ISL and Indian Football team doing exceptionally well has taken the spirit of soccer to a new level. We want to use this as an opportunity to take the theatre experience a notch higher and give a chance to our patrons to enjoy the game with like-minded people. So for this special event, we will be re-creating a stadium like feeling inside our theatres. Since we don't want our patrons to miss out on their favourite drink while enjoying the game, we will be serving liquor during these screenings. We will be obtaining the requisite licenses for this purpose"
Now isn't this great news?!
For more information and enquiries on this space, get in touch with us at [email protected] and [email protected]
Like
0
Love
0
Haha
0
Yay
0
Wow
0
Sad
0
Angry
0